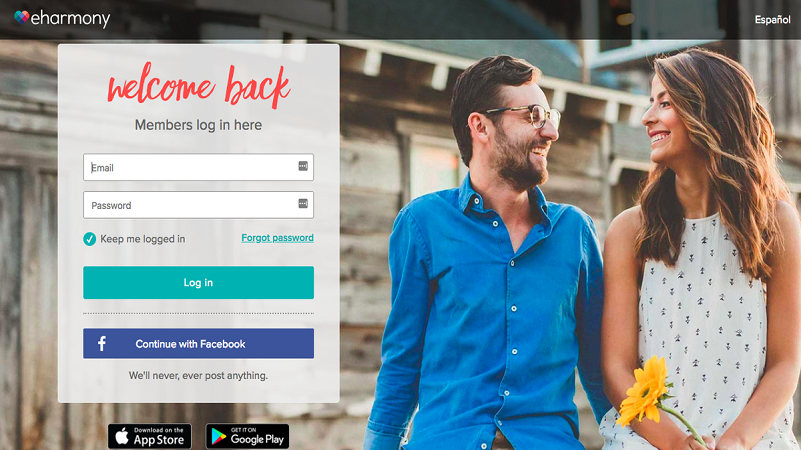 Los Angeles-base eharmony (www.eharmony.com) launch in. The United States in 2000 with its patent Compatibility Matching System®. Which allows eharmony.com members to be match with compatible persons with whom they are likely to enjoy a long-term relationship. Millions of people of all ages, ethnicities, national origins and religious and political beliefs have used eharmony's Compatibility Matching System to find compatible long-term relationships.

Online Dating Site – eHarmony.com
The user experience on eHarmony is 100% personalized for each individual user, but also very restricted. This isn't a site to throw out "Hi, how are you" or other generic messages and waits for responses. Instead, users can only see those people the site has identified as potentially good matches for them. (So that means there are no browsing or searching features available). Members discover others based on their intentionally limited number of matches the site shows them each day.
The more one uses the site, the more matches, and encounters that are possible, but due to the nature of only seeing a hand-picked yet small percentage of the total site membership each day, the online dating process on Eharmony.com is slower and more calculated than that on other online dating sites. This, of course, could be a deterrent to some, but with the tried and true success, eHarmony has in facilitating lasting romances and marriages. In addition to numerous awards, the site has received over the years. It's reasonable to consider dropping your need for instant gratification or mass attention in order to achieve real love.
RELATED ARTICLE: EliteSingles.com
                                           

Frequently Asked Questions
Does eHarmony really work?
Yes, I would say eHarmony does work. It is one of the largest and most successful dating sites. It primarily targets those seeking long-term partners or meaningful connections.
Why we join eHarmony?
Eharmony is a very famous website on the internet. Many people share there positive experience of this website. eharmony is dedicated to finding loving, long-lasting relationships for singles.
Is eHarmony is free?
Joining is free on eHarmony you can create your profile and watch other profiles. If you want to use eHarmony to start chatting with people and finding that special someone, you are going to have to pay for an upgraded account.
Is eHarmony worth it?
Well, I think eharmony is a bit different from other dating sites. Success rates are good for finding your partners in eharmony.
How safe is eHarmony?
According to eHarmony privacy policy When you register for an account or subscribe to any of our Services, we collect a variety of information about you, including your contact information such as your name, email address, contact number, mailing address, date of birth, dating preferences, etc. We store information in a combination of electronic storage facilities, paper-based files, and other records. While we cannot guarantee your personal information is completely secure at all times, we have administrative, organizational, technical, and physical security measures in place to help protect against the loss, misuse and alteration of the information collected and processed.
What kind of cookies does eHarmony use?
We use certain cookies to make sure that our website and our Service is easy, secure and safe to use.
How do I delete my account on eHarmony?
If your account does not have a subscription, you can delete your profile within your account by:
Clicking on the arrow next to your photo at the top of the screen to open the dropdown menu
Clicking the Data & settings link
Under the Profile Status section, click the link within To permanently delete your profile, click here On the following page you can confirm the permanent deletion of your profile
How success rate for eharmony site?
Success rate for eHarmony, less than 40%. eHarmony may have a good reputation on the surface, but we took the liberty of checking whether it is a dating site worthy of your time. People who stay on this site have most likely upgraded their account. This can be pretty costly so, there is a huge possibility that you'll match with someone who is already stable.
Should I try the eHarmony?
If you are looking for a serious relationship, then this site is probably worth a try. Most of its members are in the age of settling down and building a family. eHarmony is conjunction with the basic interface it might wear it has the web version. It is clean and easy to navigate and does not have a lot of promotions to deal with. The app allows easy scrolling through your match list and favorites' list.
How can I contact eHarmony?
There are many options to contact eHarmony, goto about and then contact. There are Help Center, Careers, Press Inquiries, etc. You can check their Help Page if you have any issue and questions regarding your account.
Website: www.eharmony.com
Phone Number : +1-626-628-3467
Address: 10900 WILSHIRE BLVD,
Los Angeles California, 90024, United States
Reviews
I won't recommend this to anyone
Not good. I won't recommend this to anyone. They're just good with collecting your money. But not willing to help.
Unbelievable and highly alarming
I have paid for 6 months and I got contacted by numerous scammers with fake profiles. I nearly fell a victim to the first one and then had to educate myself about their tactics, unfortunately… Some of them were taken down by the site's security team but some were not. The experience was highly disappointing! I met with only one real person for all this time. I suspect the rest of the profiles were fake. Unbelievable and highly alarming.
What a nightmare.
You can never reach them. You can't report a sleazebag on their site, and that is ALL you will encounter. Their website states: "go here to report someone," but will not route you. "Fill out this form" to complain, and no form pops up. I reported them to the FBI! They hook scammers up with victims and you pay $200 to be lied to non-stop. What a nightmare.
This company is a complete scam
This company is a complete scam – a business model built upon auto-renewals at a high price. Which they steadfastly refuse to make easy to cancel.
Don't waste your time
I joined a while ago but wasn't on there very often, but decided to login and check things out, I couldn't login so I asked for a email with password reset, I never got it so I contacted the help page, I got an email saying sorry for your login issues we have manually sent you a password reset , I never got it glad I'm not wasting my money paying to be a part of this money grabber online website, which looks like because I'm not paying they don't want me on there, fairly annoyed right now with the mediocre help I've received all I can say is don't waste your time or money.
Impossibility of cancellation
Claims to use algorithms to find your perfect match. If it does these must be remarkably unsophisticated, as it kept suggesting people hundreds of kilometres from me, sometimes of the wrong gender. I wish I had read a review of the site before committing to upgrading to using its paid facility. It is expensive, and I think offers poor value. The real kick in the teeth however is the impossibility of cancellation: this site will continue to debit your card when you cancel; in my opinion this is tantamount to fraud.
Racist operators
Racist operators, they love scammers and prostitutes, girls doing webcam, sending pics for money, anything bad is for them, you dare not write anything bad trying to scam you because you will be blocked. They also have other sites that are the same and if you blocked on when you blocked on all…………….eventually. Never give your credit card to these people because they will clean it and block you.
Don't use this app!!!
This app is the worst I didnt have anyone talk to me, I mean damn am I that ugly or something, so I deactivated my account and never received my refund, total rip off!!! Don't use this app!!!
Please avoid
Please avoid this con site and don't bother wasting you time or money.
I closed my account
I closed my account a number of months ago and they continued to charge me a yearly subscription which they refused to return. Very dodgy. Try Other website
For me it totally worked!
This unbiased hook up site accommodates everyone. It is fabulous and doesnt fail to provide ample options for interaction to its users. You can easily find and engage with your matches. For me it totally worked!
Well easy accessible page
Well easy accessible page easy overview both on PC and mobile and I can only recommend the page to others I was on the site many years ago and Self I return to in my opinion dating page and there is so. Always friendly service of the support and no stupid questions
Helped me to find my better half
Helped me to find my better half – I don't think that our paths would have crossed without this website!
Keep it up. Try it!
I am very happy to come across this kind of dating agency. It is very hard to find something like this that not only gives interested matches that go with your taste and preferance but also offers assistance. I love the work being done here, keep it up. Try it!
Great app
Great app, if you are truthful, honest, then your experience will be successful. I do really recommend this service.
Very easy to use and fun site
Very easy to use and fun site. Lots of women I'm my age group. Easy to put lots of pictures on the site. The women range from professional to very educated. The site is easy reach out to them and I like the security system in place for imposters.
I'm very happy this site worked
I'm very happy this site worked. I found what I needed and couldn't be happier all I can say is try it for yourself if you are looking for love it is it there
This is a great place to meet
This is a great place to meet a number of people that are seeking the same things as you are. Had the chance to meet someone very special to me.
Money wasted on this app
Money wasted on this app. People are imposed on me, people appear online when they are Not, i actually tried it with a good friend of mine.
Keep away from it
Paying is easy but try and cancel your subscribtion is near on impossible as As soon as you try the app locks up.Keep away from it
Beware of being cheated by LatinFeels
LatinFeels.com is a very bad and scam website, Beware of being cheated by LatinFeels.
Scammers auto renew with no warnings.
Scammers auto renew with no warnings. Don't go near this site there is no one on it way overpriced
Scam scam scam!
Scam scam scam! Stay away- fake profiles. I have received over 300 emails in a day- and they are all scams- robot generated software.
This site if full of scammers
This site if full of scammers – fake accounts
Eharmony have not customer service at all
"I paid £14.99 and my money went stray a way from my account, for some coins credit to start trying eharmony, and eharmony to my money and didn't deliver anything! I sent many emails asking for my credit, and not replay at all,
Eharmony have not customer service at all, just take money and for get his customers. "
I would recommend trying another one
After reading the reviews shortly after i joined I tried to cancel, and tried to cancel and tried to cancel and they have been giving me the run around for two entire days trying to run out the clock. They should be put out of business by the government or some consumer protection agency. they are dishonest, manipulative and criminal and just prey on the poor suckers unlucky enough to sign up,