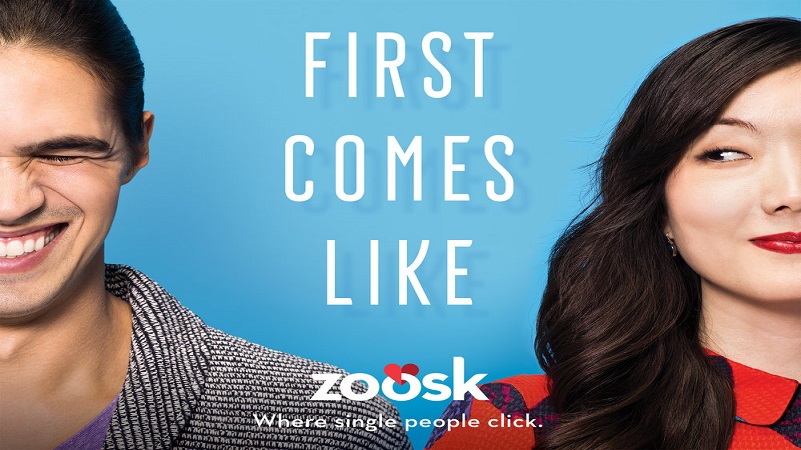 Zoosk.com began as a Facebook application in December 2007, and now it's a global dating site with millions of registered users to its name. Zoosk is a unique dating company on a mission to seamlessly integrate social networking and online dating. The dating website and app provide singles with an intuitive dating experience with affordable and customizable communication tools at their disposal. Zoosk attracts a fairly young crowd of singles looking for casual dates and deep relationships in a fun online environment.
Online Dating App – Zoosk.com
One major part of Zoosk's appeal is its simplistic, straightforward approach to finding people on the app. You don't have to submit to the Internet equivalent of a psychological examination or fiddle with the interface for hours to get the site working. There's also no home screen, or home feed, or any other source of abundant information that falls on you all at once when you're beginning your Zoosk section.
Rather, the site and app feature clear-cut sections that display individual profiles one by one, no matter which part of the site's functionality you're using. With one profile in front of you at all times, there's no confusion about what you're doing, and no irrelevant stuff to distract you from the task at hand. But, despite this focused approach, Zoosk.com is really a chill, low-pressure experience. Navigating between profiles is quick and seamless, so there's no need to take immediate action when you see an appealing person unless you're playing Carousel, which is the site's hot-or-not game.
Frequently Asked Questions
How do you find someone on Zoosk?
After creating your Zoosk account you should be able to use the search feature to find different people according to different criteria that you set up in your search.
Can you message on Zoosk for free?
No you can't read message for free. If you want to read or send any messages, you're going to have to pay for it.
How can I request the deletion of my data from Zoosk?
If you'd like to delete your data from Zoosk, send a request to Zoosk Customer Support team at [email protected]
How to update my information on Zoosk?
Open your web browser,
go to zoosk.com, and log in to your Zoosk account.
Click on your Zoosk display name in the top right corner of your screen.
Select My Profile.
This will take you to your profile where you can view and change your photos, basic information, story, perfect match, and ideal date by clicking the Edit or Add link next to the information you'd like to update.
Is Zoosk have a free trial?
Joining is free for a Zoosk subscription but there still are some limitations to the free version. Zoosk provides a free 30-day trial.
How much cost of Zoosk membership?
Monthly prices listed for a Zoosk subscription is
$12.49/mo for six months.
$19.98/mo for three months.
$29.95/mo for one month.
Is Zoosk worth it?
Modern days online dating website is terrible so everyone is very scared to join a dating site. Zoosk is an excellent choice for modern singles who looking for serious relationships. Most profiles are straightforward and complete, making it easy for you to determine whether the account you are viewing is a match or not.
Why we join Zoosk?
Zoosk is far more efficient! The logical way to sort and meet others you might have an interest in. A good percentage of the member base is active in the site. Members often use the site to look for serious dating and long-term relationships. The matchmaking functionality is excellent.
What are the pros and cons of Zoosk?
Pros
40 million members worldwide
Most members are within the age range of 25-34
Search by age, location, religion, education, height, body type, and more.
Send a like or smile to someone for free.
Cons
Zoosk is very expensive
Zoosk charges a one-time activation fee of $24.95 in addition to subscription cost.
The Auto-Reply system can mislead users
How is Zoosk different from other dating sites?
Zoosk is one of the most popular dating sites in the world. It has a clean design that makes the site really easy to use and interact with other members. The matchmaker functionality that Zoosk offers on its dating platform is different from other dating sites.
   
Phone Number : +1-888-939-6675
Address: 989 Market Street,
San Francisco CA, 94103, US
Reviews
They are liers
As many others my account has been blocked falsely!! I have NOT violated, threatened or been abusing anyone. I had paid for a weeks premium but they are refusing to refund as I've " broken there t&c's" which I clearly haven't! They never listen but send out vague replies missing the point every time. They will not tell you the reason but refer you to terms and conditions which DO NOT say anything about not being refunded. They are liers And running a scam. ABOUD TIKE THE PLAGUE no way to run a dating site based purely on false lies!!!!
Stay away from this crap
A waste of money no one one line the women are not in my area and no one chats. I get someone likes me but no reply. Stay away from this crap
It is a total joke
I payed £59.94 for 6 month membership and couldn't get access to receive or reply to messages. Asked for a refund and cancel my subscription they cancel my account and don't give me a refund. It is a total joke and so is there customer device
Fake profile
It uses trickery to get to you sign. My friend and I received contact from the same ?fake profile within minutes of using the app. Then surprise surprise, you can't see the messages without signing up. Then they have the 3 day cancellation period which does not apply to Australia but it does not state that….the way it's worded makes it seem like it only applies if you are a user in the United states. Help.
Best dating site
So far the best dating site I've found. It feels so good to talk to the attractive ladies. Hope to tie up with someone in the near future. Working on it!
There are many really nice people
Take time to get to know online members, before you meet them. Try talking and text first. There are many really nice, good hearted people..
I found my wife
I was able to find a lovley girl that i have now been married to for 7 months
Thanks
Well, i would never have thought that i would be able to meet a life partner here. i joined like any other social platform, but this has turned out to be the most productive. Thanks
I was happy
I was happy with the set up and the settings for privacy. The safety information was good also.
Brilliant app
Brilliant app thanks to this site i met my soul mate
I will definitely recommend
After numerous tries on this site, I finally met the woman of my dreams!!! Thank you !! I will definitely recommend this site to anyone and everyone!!!
Best dating website
By far, the best dating website I've ever been on. Yes, there are some gals that I wouldn't consider very desirable but they're everywhere. I've enjoyed this one more than any of the others and frankly, I HIT THE JACKPOT with this woman!
Bunch of crooks
This company is a fraudulent ignorant bunch of crooks ! Continually charging renewal fees for a service I'm not subscribed to.
Terrible site, no customer service
Terrible site, no customer service
STILL WAITING FOR MY REFUND
STILL WAITING FOR MY REFUND. I did not consent to a renewal.
Take your money and run.
I subscribed. Found I was matched with only a few people I didn't fancy and you can't see anyone else. So tried to cancel but you can't find an email address or a telephone number as the site takes you around in circles. To cancel you have to WRITE A LETTER to Germany. Seems highly dodgy to me – like a company who want to take your money and run.
Worst site i have used
The owners are making a lot of money out of the site preying on lonely people.worst site i have used.
Lose Money
You will lose a lot of money that's all !!!
A big rip-off
A good site but they fail big time by charging an activation fee when you subscribe. If I want to pay for a subscription I should not be billed an activation fee as well. A big rip-off, don't fall for it, there are other sites as good and cheaper with being ripped off. Check out Twoo and OK Cupid
Zoosk is lying to me
I've been on Zoosk for 2 weeks and am unsubscribing, deleting my profile (or trying to anyway), and asking them for a refund (haven't heard back, not too optimistic from all the other comments). The other comments about 'fake' profile views are absolutely true. Today I noticed that my profile had been viewed by a lady that I had viewed and was interested in. On a hunch I messaged her and asked if she had viewed me at such-and-such time today. She wrote back and said that she had never looked at my profile before. So essentially Zoosk is lying to me when they tell me someone has viewed me. If this is a lie, what else is? Trust is gone, period.